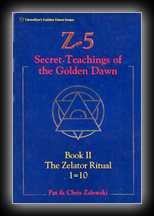 Z-5 Secret Teachings of the Golden Dawn - Book II: The Zelator Ritual 1=10
by Pat & Chris Zalewski
1992
Two of the Golden Dawn's highest initiates reveal what actually happens when one is initiated into the Golden Dawn's second grade ceremony: the Zelator Ritual. Unlike any other book written on the Golden Dawn, Z-5 presents in enormous detail all the higher explanations of this ceremony in one package. Also read first-hand experiences of others who have undergone the ritual.