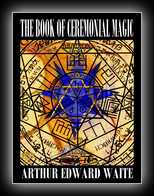 The Book of Ceremonial Magic - The Secret Tradition in Goetia, including the rites and mysteries of Goetic Theurgy, Sorcery and Infernal necromancy
by Arthur Edward Waite
1913
The Book of Ceremonial Magic (The Secret Tradition in Goëtia, including the rites And mysteries of Goëtic theurgy, sorcery and infernal necromancy) by ARTHUR EDWARD WAITE

The Book of Black Magic and of Pact is an attempt to synthesize the procedures of all of the famous Grimoires. It draws on the Key of Solomon, the Grimorium Verum, the apocryphal Fourth Book of Cornelius Agrippa, and many others, including the famous Black Pullet, or Poulet Noir. While Waite is careful in his analysis of the various Grimoires, he treats the subject matter skeptically. The result is an unparalleled look at the details of ceremonial magic.

Goetia (Latin, "howling") is a word used to describe a class of magick which emphasizes the summoning or calling forth of lesser spirits and demons to visible appearance, with the intention of binding the spirits to perform the magician's will.