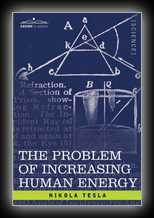 The Problem of Increasing Human Energy - With Special References to the Harnessing of the Sun's Energy
by Nikola Tesla
2011
The Problem of Increasing Human Energy by inventor Nikola Tesla was developed largely based on his acquired knowledge as both a mechanical and electrical engineer, and focuses on his ideas for the survival of the human race. Special reference is also made to the best way of harnessing the sun's energy. Today with the fears of global warming, this Tesla work has been used as a starting point for understanding the problems that the human race is facing. The Problem of Increasing Human Energy is highly recommended for individuals who are interested in scientific ideas toward the longevity of the human race and those interested in key writings of Nikola Tesla.
Part philosophical ponderings on humanity's relationship to the universe, part scientific extrapolation on what technological advancement might bring to that understanding, this long essay, first published in Century Illustrated Magazine in June 1900, is yet another example of the genius of Serbian inventor NIKOLA TESLA (1857-1943), the revolutionary scientist who forever changed the scientific fields of electricity and magnetism. From the possibilities presented by robotics to the "civilizing potency of aluminum," from a "self-acting engine" to one of the first proposals to use solar power to run industrial civilization, and much more, this is a wide-ranging but illuminating look into the thoughts of an unsung hero of scientific philosophy.