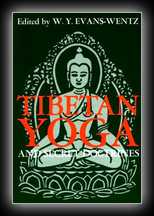 Tibetan Yoga and Secret DoctrinesSeven Books of Wisdom of the Great Path, According to the Late Lama Kazi Dawa-Samdup's English Rendering
by W.Y. Evans-Wentz
1935
Books, audiotapes, and classes about yoga are today as familiar as they are widespread, but we in the West have only recently become engaged in the meditative doctrines of the East--only in the last 70 or 80 years, in fact. In the early part of the 20th century, it was the pioneering efforts of keen scholars like W. Y. Evans-Wentz, the late editor of this volume, that triggered our ongoing occidental fascination with such phenomena as yoga, Zen, and meditation. Tibetan Yoga and Secret Doctrines--a companion to the popular Tibetan Book of the Dead, which is also published by Oxford in an authoritative Evans-Wentz edition--is a collection of seven authentic Tibetan yoga texts that first appeared in English in 1935.
In these pages, amid useful photographs and reproductions of yoga paintings and manuscripts, readers will encounter some of the principal meditations used by Hindu and Tibetan gurus and philosophers throughout the ages in the attainment of Right Knowledge and Enlightenment. Special commentaries precede each translated text, and a comprehensive introduction contrasts the tenets of Buddhism with European notions of religion, philosophy, and science.
Evans-Wentz has also included a body of orally transmitted traditions and teachings that he received firsthand during his fifteen-plus years of study in the Orient, findings that will interest any student of anthropology, psychology, comparative religion, or applied Mahayana Yoga.
These seven distinct but intimately related texts will grant any reader a full and complete view of the spiritual teachings that still inform the life and culture of the East. As with Evans-Wentz's other three Oxford titles on Tibetan religion, which are also appearing in new editions, this third edition of Tibetan Yoga and Secret Doctrines features a new foreword by Donald S. Lopez, author of the recent Prisoners of Shangri-La: Tibetan Buddhism and the West.