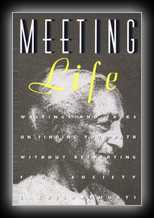 Meeting Life - Writings and Talks on Finding Your Path Without Retreating from Society
by J. Krishnamurti
1991
In this fascinating collection culled from teachings never before brought together in book form, Krishnamurti offers wise reflections and fresh perceptions on love, politics, society, death, self-censorship, relationships, solitude, meditation, spiritual growth, and much more.
Through provocative meditations and in-depth answers, Krishnamurti answers such timeless questions as:
What are love and loneliness?
What should our relationship to authority really be?
Meeting Life also features a number of Krishnamurti's talks, delivered in Switzerland, India, England, and California, Here is the profound wisdom of a beloved teacher who moved millions with his words. This thought-provoking and inspirational volume will provide strength and encouragement to anyone searching for insight.