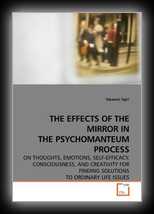 The Effects of the Mirror in The Psychomanteum Process: On Thoughts, Emotions, Self-Efficacy, Consciousness, and Creativity for Finding Solutions to Ordinary Life Issues
by Takanari Tajiri
2009
Psychomanteum is an ancient Greek process that uses mirror gazing to help people get into emotional reconnection with lost loved ones. Recent trials by a psychiatrist and researchers confirm the effectiveness of this process.
The room used for the psychomanteum is equipped with a mirror and a reclining chair with a small light. The function of the mirror is, to date, unknown. This paper proposed to explore the function of the mirror in the psychomanteum process and its use toward the resolution of significant life questions.
Two psychomanteum environments were created, one with a mirror in the room and one without. This research used an experimental quantitative methodology to examine the difference in impact of the two environments on participants. This research analyzed the before and after difference between and within these two groups and sought to determine whether there were any correlations between a hypnagogic-like state and an increased sense of self-efficacy in the solving of important life questions, in addition to assessing the effectiveness of the psychomantuem process.
Welcome to the mystery and wonder of the psychomanteum.