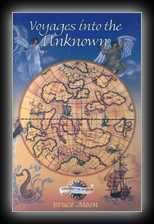 Voyages into the Unknown (Exploring the Afterlife)
by Bruce Moen
1997
The author says, "I'm just an ordinary human being whose curiousity about human existence beyond death led me to extraordinary experience. . . . If there is any difference between you and me it is only that my curiousity has already led me to exlore and know what lies beyond death in the Afterlife."
This fascinating volume recounts the story of some of his voyages past the edge of life, using techniques learned at The Monroe Institute. Moen describes for the reader how to access this knowledge for themselves and to learn what the Afterlife really is.