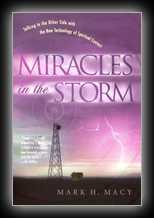 Miracles in the Storm: Talking to the Other Side with the New Technology of Spiritual Contact
by Mark Macy
2001
Over the centuries many psychics and seers have communicated with the other side. But until the revolutionary, new technique of Instrumental Transcommunication (ITC) was developed, no one could approach the purity of contact now underway with the beyond, and with divine beings who convey their messages of infinite wisdom and peace.
Mark H. Macy was an agnostic until a brush with death set him on a spiritual search in the 1980s. He learned about the miracles of ITC—personal letters planted mysteriously in computers by invisible hands, images from other realms flashing across TV screens, and actual phone calls from angels. And when a voice from beyond came through a radio with a long, personal greeting, Macy's skeptical mind had the proof it required to believe.
Joining with a small group of researchers, Macy dedicated his life to fostering the ITC connection. But what he and his colleagues discovered were not just paranormal contacts with departed loved ones. These revolutionaries in electronic spiritual channeling made contact with angels and even higher entities that brought them one step closer to comprehending the very meaning of life and death—and helped them find peace in the "storms" of negative thoughts, words, and actions on Earth.
An enlightening story of personal spiritual rebirth, and a revealing and truly incredible tour into the mysteries of the beyond, Miracles in the Storm holds a message of hope, endurance, and inspiration that all of us can embrace.