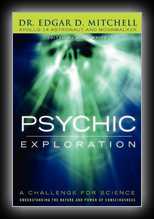 Psychic Exploration
by Edgar D. Mitchell
1974
Psychic Exploration, A Challenge for Science is a primer on psychic research, life's purpose, and the meaning of the universe. Originally published in 1974, this landmark anthology of nearly thirty chapters on every area of psychic research is finally available again. Edgar D. Mitchell, Apollo 14 astronaut and moonwalker, as well as a distinguished researcher of the study of human consciousness, brought together eminent scientists to write about issues once considered too controversial to discuss. This book includes fascinating chapters on the history of parapsychology, telepathy, hauntings, psychic phenomena, and consciousness, along with an extensive glossary and index.
This timeless anthology continues to be appealing as a reference work for those curious about the history of parapsychology, fans of the world of psi, and readers interested in the meaning of the universe. Contributors include: Willis W. Harman, Jean Houston, Stanley Krippner, Robert Masters, William G. Roll, Russell Targ, Charles T. Tart, Montague Ullman, and many more.