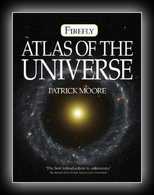 Firefly Atlas of the Universe
by Sir Patrick Moore
1994
The new edition of a critically acclaimed bestseller.
"A beautiful, up-to-date oversized volume that is the equivalent of a small astronomy library...a superb visual reference."
- Terence Dickinson, SkyNews
"Highly recommended."
- Booklist (of the 2nd Edition)
Firefly Atlas of the Universe is the ultimate reference to the stars, planets and celestial objects using the most comprehensive information currently available.
The book features the latest images from the Hubble Space Telescope, the Very Large Telescope, Mars Express, the Cassini spacecraft and 2004 Huygens probe of Saturn and Titan. The stunning images are explained with clear and detailed text.
The full color book illustrates and explains:
Exploring the Universe: the history and current state of astronomy and space exploration
The Solar System: Earth and other planets, mapped and imaged with data from the most recent mission probes
The Sun: astrophysical phenomena from sunspots to eclipses
The Stars: movements and life cycles, novae and supernovae, black holes, and more
The Universe: the origin and nature of the universe, our galaxy, local and remote galaxies, quasars, and the question of alien life
Star Maps: whole sky maps with 22 alphabetized chapter listings of stars and constellations, and seasonal charts for both northern and southern hemispheres.
Firefly Atlas of the Universe is a fascinating and encyclopedic reference illustrated with spectacular color photographs and illustrations.