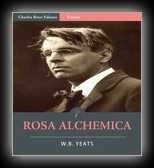 Rosa Alchemica
by W.B. Yeats
2002
Born and educated in Dublin, Ireland, William Butler Yeats (1865-1939) discovered early in his literary career a fascination with Irish folklore and the occult.
Later awarded the Nobel Prize for Literature in 1923, Yeats produced a vast collection of stories, songs, and poetry of Ireland's historical and legendary past.
Red Hanrahan is a character that Yeats returned to frequently, his creation influenced heavily by Celtic folklore.
In this collection, he appears in "Red Hanrahan", "The Twisting of the Rope", "Hanrahan and Cathleen The Daughter of Hoolihan", "Red Hanrahan's Curse", "Hanrahan's Vision", and "The Death of Hanrahan". Also included in this collection are "Dedication to A. E.", "To The Secret Rose", "The Crucifixion of the Outcast", "Out of the Rose", "The Wisdom of the King", "The Heart Of The Spring", "The Curse of the Fires and of the Shadows", "The Old Men of the Twilight", "Where There Is Nothing", "There Is God", "Of Costello The Proud", "Of Una The Daughter of Macdermot", "Of The Bitter Tongue", and Rose Alchemica.