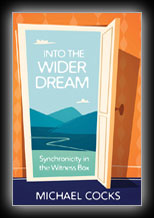 Into the Wider Dream: Synchronicity in the Witness Box
by Michael Cocks
2015
The author, Michael Cocks, is an Anglican clergyman from New Zealand. He is editor of an e-journal, The Ground of Faith and the book, Afterlife Teachings from Stephen the Martyr.
It is probably true to say that all world religions believe that life-changing meaningful coincidences, or synchronicities, are signs that the 'Will of God' is being worked out in our lives. There is deep meaning here, and the long synchronistic episodes described in this book help us explore some of it.
The author's conversations with the spirit of the Martyr Stephen were surrounded with multiple synchronicities with several themes from the Book of Revelation, 'dead and not-dead', 'philosopher's stone', 'the five wounds of Jesus' and many more. The stream of synchronicities continued for many years giving him and others personal experience of the truth of what Stephen was teaching at the time.

To try and make sense of these experiences, this book explores the thinking of a number of leading physicists, psychologists, and those writing directly on synchronicity.

It compels us to ask, 'Are we and these events being dreamed up by a Mind that encloses all of us? Does this Mind dream ourselves up, as well as these strange coincidences?' 'That theory makes some sort of sense, and that is why I named this book, Into the Wider Dream' Michael tells us. Some people might argue that it can also help to enrich our understanding of what it means to be 'In Christ.'
Selected comments from writers of five 5-star reviews on Amazon


The late Professor Mary Rose of Baltimore MD wrote....
Michael Cocks and I have never met, although we have been corresponding about synchronicity for over a decade...

I liked Michael's interpretation of synchronicity as the presence of divine creativity in our lives because, within my spiritual and intellectual experience of first desiring Christian faith and then receiving that faith and beginning to grow in it, I had, in effect, long known that what is now known as synchronicity occurs in our lives. That is, I believed that all my life I had been having experiences which I thought of as 'meaningful and significant coincidences.' Thus, the correspondence about synchronicity with Michael Cocks became a turning point in my interest in synchronicity...

I suggest that synchronicity occurs in a variety of spiritual paths and perhaps is profitably illumined in a distinctive way by each of the great world religions or significant spiritual commitments and the beliefs that guide them. A corollary of this is that at the present time no one of us has all the insight into, or experience with, synchronicity needed to illumine it completely...


I have had in my life instances of synchronicity that started long ago and the significance of which has been unfolding during my whole life (even since childhood), and in some cases have apparently not yet come to an end....
Professor Steven Rosen....
In 1982, I was working on a philosophical novel that explored the theme of synchronicity, among other things. On October 6 of that year, I had a striking experience that unexpectedly connected me with Michael Cocks (of whom I had no prior knowledge) and prompted me to contact him. Here are excerpts from the letter I sent him:


"I have been writing a 'metaphysical novel' that deals essentially with the synchronistic linkages attending the evolution of consciousness. Last Wednesday afternoon, I was working in the basement office of my New York suburban home, feeling enthusiastic about approaching the climax of my project. The three central characters, in the course of their development, have just listened to the theme 'Joy' from Beethoven's Ninth Symphony. 'Sandy' remarks that it reminds her of the movie 'Close Encounters of the Third Kind.'
I wanted to portray her as singing the five-note musical signature phrase of the film. Could I use musical notation in my manuscript? Specifically how would it be done? (I don't know musical notation). At that moment, my father-in-law called down to me, telling me that the mail had just arrived. I opened an envelope from the Academy of Religion and Psychical Research and removed the latest issue of its Journal. Thumbing through the pages, I happened upon your article on synchronicity and was startled to discover your splendid musical staff featuring the five notes from 'Close Encounters'!

Into the Wider Dream is a thought-provoking work written in an engaging style that brings to life the author's personal experiences and ideas about synchronicity. Here Michael Cocks makes no claim of providing a systematic philosophical analysis of his subject or of going into technical detail and depth on the issues of theoretical science he raises. Rather, his intention in citing the literature of science and philosophy is to support his experience of synchronicity and his intuitions of universal meaning and undivided wholeness in a manner that can readily be grasped by a lay audience. To that end the author clearly succeeds. I thoroughly enjoyed this enchanting book and recommend it to all readers interested in the phenomenon of synchronicity."
Bruce Scott-Hill: Cocks's book can in fact be regarded as a treasure house of not just single events of synchronicity (he, his wife and other fortunate friends have personally experienced together), but multiple and series of synchronistic events which in many cases, have each occurred over a number of days. Quite remarkable - when one considers most cases of synchronicity relate typically to a single event at a time Cocks's wonderful and obvious scholarship, his open-mindedness and unexpected wish to first consider a scientific approach (which he does at length near the beginning of his book) to seeking explanations for the likely source of synchronistic occurrences, rather than first asserting a religious explanation - make this book a serious and important contribution to the subject. Dr Howard Jones' review provides a valuable description and appreciation of the contents of this book.


Book Award. Michael's book was a strong contender in a large entry field, for the Ashton Wylie Charitable Trust's annual Mind Body Spirit 2015 book award. Initially announced as a finalist for the $10,000 award, he was confirmed in 4th place at the awards presentation at Hopetoun Alpha, Auckland, New Zealand in August 2015